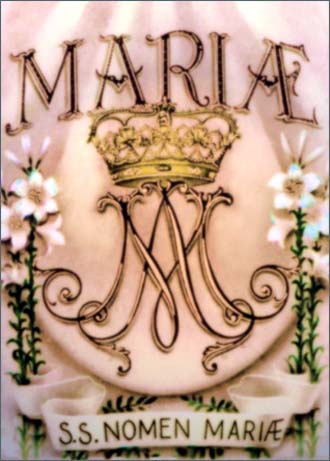 The Church, since 1684, celebrates today the Feast of the Holy Name of Mary. This feast commerates the victory at the Battle of Vienna in 1683 during which the Polish-Lithuanian Commonwealth (Holy League) liberated the besieged Vienna on the fields of Kahlenberg. For the history buffs, this battle is noted as the largest calvary charge in history (20,000 men).
The Roman Martyrology speaks about this feast in the following terms:
The Holy Name of the Blessed Virgin Mary, a day on which the inexpressible love of the Mother of God for her Holy Child is recalled, and the eyes of the faithful are directed to the figure of the Mother of the Redeemer, for them to invoke with devotion.[1]
John III Sobieski
, King of Poland prior to the battle placed his troops under the protection of the Blessed Virgin Mary. To commerate this victory,
The feast was taken off the General Roman Calendar after the Second Vatican Council but restored in the Second Typical Edition of the Roman Missal.
Mary is the mirror of the Church. There is nothing that we can say about the Mary that we cannot say about the Church, and visa-versa. Her name is also said to be the terror of demons. At the sound of the Immaculate they flee from the one who by her own free will chose not to voluntary sin during her life. She is the proof that grace overcomes all and that the human person is capable of living a life free of sin by cooperating with the grace(s) of redemption.
May her name always be on our lips!
---