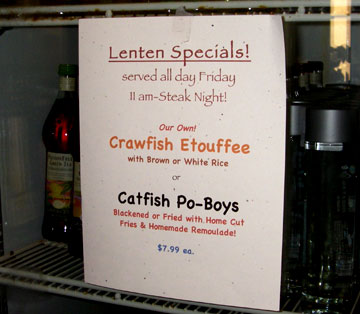 I love being Catholic. We have so many big "T" and little "t" traditions that sometimes it is hard to keep track of them. One of our time honored Traditions (big T) is the Lenten fast. Meaning, we abstain (no meat) from meat on Ash Wednesday, all Fridays and of course, fast on Ash Wednesday and Good Friday.
Related to this subject, sometimes there are questions that make me chuckle. In fact, the Church chooses to answer some of those fun questions which is also hilarious. Take for instance Mr. Piculas, owner of the Insta-Gator Ranch and Hatchery in Covington, LA. His question asked if gator was acceptable to eat on Fridays during Lent. Most Reverend Gregory M. Aymond, Archbishop of New Orleans his local ordinary replied back with a resounding "Yes" (Check out the official letter). Not only yes but also agreed that they are "magnificent creatures." Who would have thought? Obviously, it is important to Mr. Piculas and so important to his Archbishop. But seriously, it makes you chuckle, right?
That being said, this time of year causes people to ask why we do what we do. Abstinence and fasting have a long history that pre-dates Christianity. If you want to know more, check out the following:
Anyway, I just wanted to pass on this gator-funny to you. Have a great Lent and know that we continue to pray for you and those intentions closest to your heart.