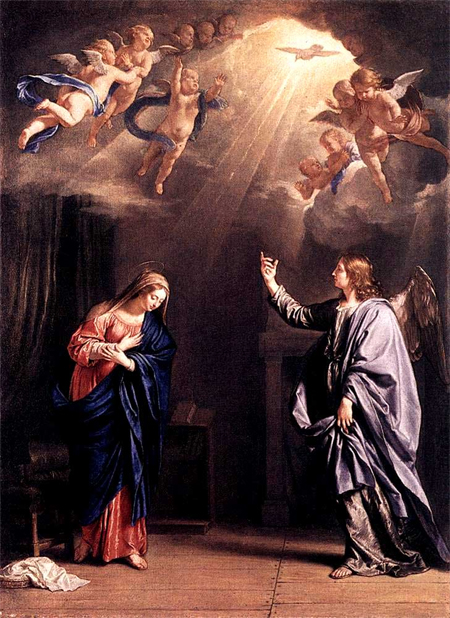 This familiar quote from Psalm 46:11 is in many ways, the center of Christmastide. The Sacred Writ reminds us of the interior and exterior disposition the Christian is to adopt in response to the Solemnity of the Incarnation.
At the Christmas Midnight Vigil, the Kalenda: the solemn proclamation of the birth of the Savior, present in the old martyrology and reintroduced in the Christmas liturgy after Vatican II, is chanted for the local community to hear. At first glance, one might deduce that it provides a context within Biblical and secular history of when the Christ child was born. On the contrary, it demonstrates how all history prior prepares for, leads up to, or is eclipsed by,  the Incarnation, and then all of history flows forth from it. There has been no event in history that has so baffled even creation itself. I believe that Mother Angelica said it best in her book, The Prayers & Personal Devotions of Mother Angelica:
The Angels must have been absolutely floored because they knew that God had a right to determine the circumstances of his coming—but the details were unknown to them.  Never in a million years would they have imagined not only that He would become man, but that God would be so lowly a man—born in a stable.  The Angels knew His Grandeur, His Majesty, His Awesomeness, His Power.  His Humility and Simplicity is something they and the entire world did not expect.
The Eternal stepped into time…and that should be enough to cause us pause. In fact, it should cause us to struggle with confusion just to grasp the concept. Confusion should then give way to reverential awe thus acknowledging the wonder that the God of the universe would choose to condescend Himself to the point of becoming human for the sake of our salvation. Concurrently, we should also remember that His Incarnation was not a necessary evil but an act of ravenous love for us that impelled Him to step down from the highest heavens in order to unite us to the Blessed Trinity.
Just a thought on the Feast of the Holy Innocents who were slaughtered for a Savior they never met and who never were given the opportunity to consider and meditate on the profound mystery of the Incarnation.